Call Setup Time
Figure 2 below presents average call setup time values for all three operators in different aggregations.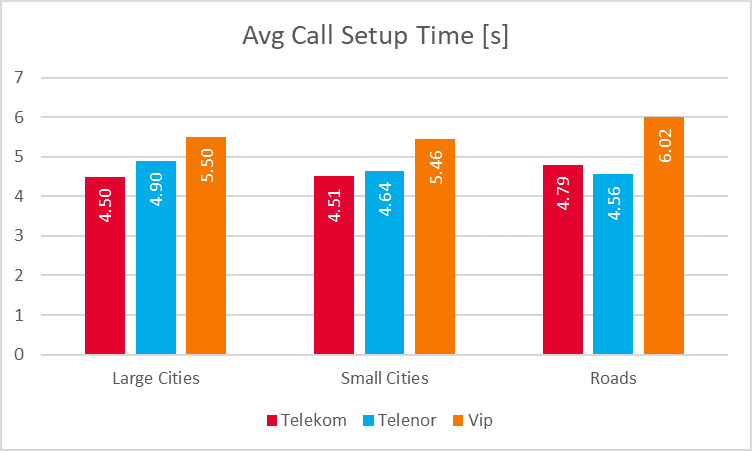 Fig. 2. Average call setup time values
All three operators implemented fast alerting functionality and achieved comparable results. Telekom Srbija has the best results, with call setup time about 1s faster than Vip mobile. Telenor was second and Vip mobile third.
VoLTE (Voice over 4G) technology is currently not supported in the Serbian market and therefore when the mobile device is connected to the 4G network and used to make or receive voice calls, the device falls back to the 3G or 2G network to complete the call. This procedure is known as the CSFB (Circuit Switched Fall Back) and is part of the call setup procedure. All 3 mobile operators mostly fall-back calls to 3G.
Telenor had the shortest CSFB duration, with an average around 0.6 seconds. Vip mobile had a very similar result, while Telekom Srbija was further behind, with an average longer than 1 second.
Distribution of CSFB duration in Large Cities for all three mobile operators is presented in Figure 3:


Fig. 3. CSFB duration in Large Cities